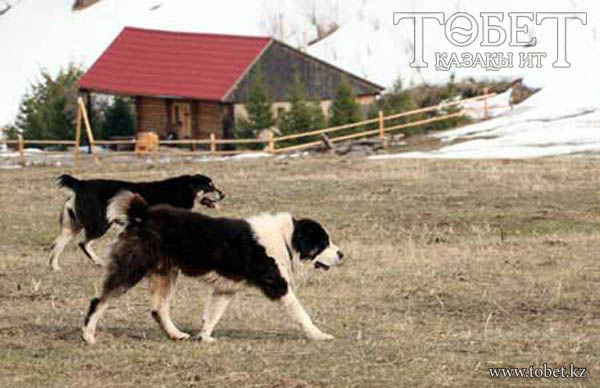 At the age of 9 month Karahan has left our nursery and was taken to his distant homeland. His short life was, however, outstanding. He began to live in the new pack, having left his own, where he had been born and grew up. Practically never we had left him in the volary, Karahan and his sisters grew up among adult dogs, they were brought up by Vagshi, their father Sheikh and mother Farida, Varda. Karahan was born dock-tailed, inhering it from his father – Sheikh. During the procedure of marking Karahan kept silence, steadily bearing the pain. He grew up handsome, thick-pawed and worthy puppy.
Three times at the puppy age Karahan participated in major exhibitions (marked as "highly perspective" at Kirovograd championship 2005 under refereeing of T.M. Ivanova (from 22 puppies only 6 with high perspective!), 3-rd high perspective at the CACIB exhibition 2005 in Kiev under the refereeing of S.Galiaskarov and 2-nd high perspective at the same exhibition at the following day, under the refereeing of U.Ovoc), invariably attracting everyone's attention.
At the first day In Kazakhstan Karahan tagged along with the shepherd after the herd. There were no more fences, restrictions – only infinitely beautiful mountain landscape and free pack, initially consisting only of three dogs (white male dog and black-spotted bitch – the pack leader), and later reinforced by new Asian sheep dogs. Little by little Karahan began to rise his rank in the pack. He fought with the elder and bigger white male dog, lost, but constantly tried again, showing his obstinacy and will for victory… In spring of 2006 his life tragically ended, Karahan died from snakebite. He was one of those dogs who always live in human hearts.
Koropec Valeriy and Natalya.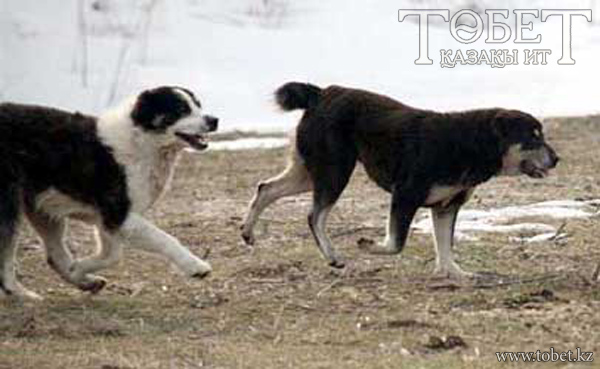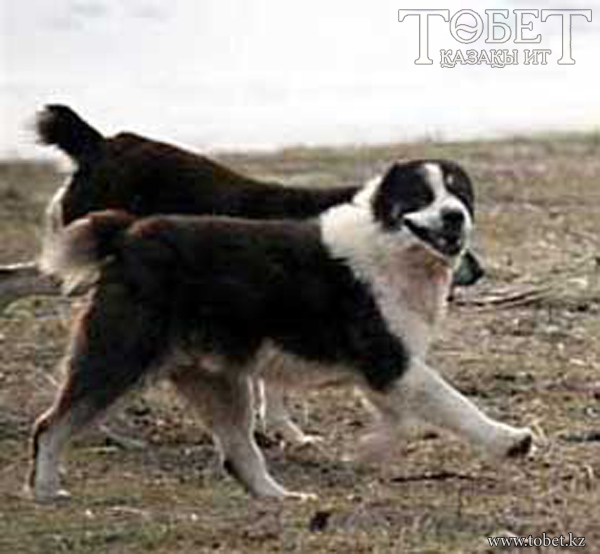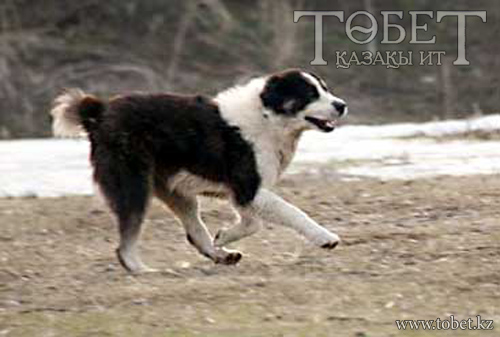 FROM DANIYAR'S LETTERS
"Kazakhy It" nursery, Almaty, Kazakhstan
"There are bigger and stronger dogs, but such character is very rare. Obstinate and kind to humans!!!
Worthy dog!!!
During his short life showed himself, fought bravely!!!
He had a claim on the rank of an elder male dog in them pack and began fighting for it.
Later he subdued all age-mates and younger dogs and have become 2nd in rank in the pack of 9 dogs.
At his age only the best can get such high positions.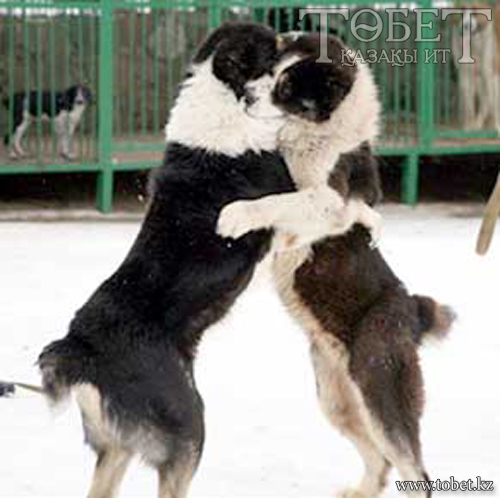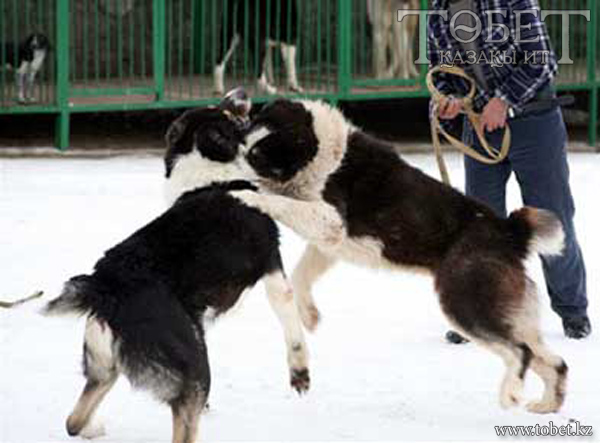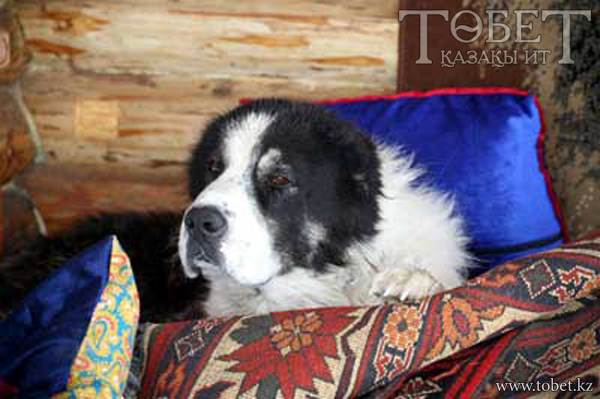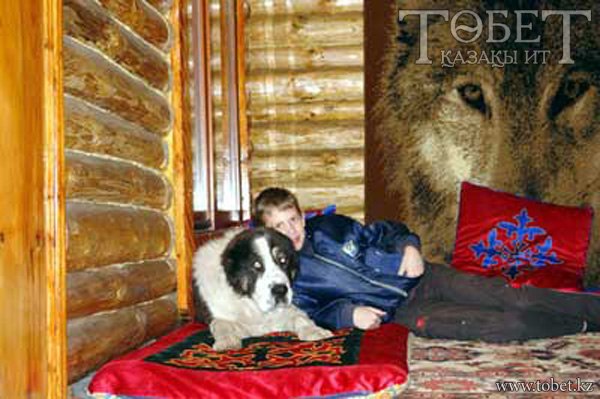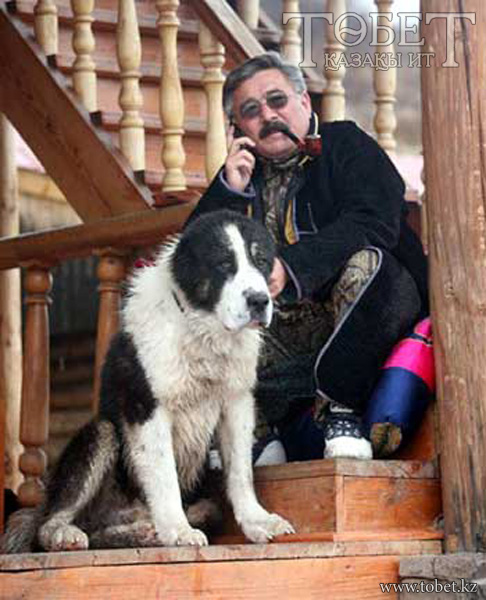 Karahan with Daniyar's father.
"KAZAKH NAME OF CENTRAL ASIA SHEEP DOG IS "TOBET" OR "KAZAKHY IT".
NOWDAYS THE LIVESTOCK POPULATION RECOVERS AND WE WANT TO RECOVER THE POPULATION OF SHEPHERD DOGS.
THIS DOG BREED, AS YOU KNOW, IS VERY PROUD AND THEY DECIDE THEMSELVES WHAT OT DO.
SOME LIKE TO WATCH OVER THE CATTLE, SOME GUARD IT AT NIGHT.
THE HUMAN MUST UNDERSTAND THE TEMPER OF THE DOG AND USE IT TO HIS BENEFIT".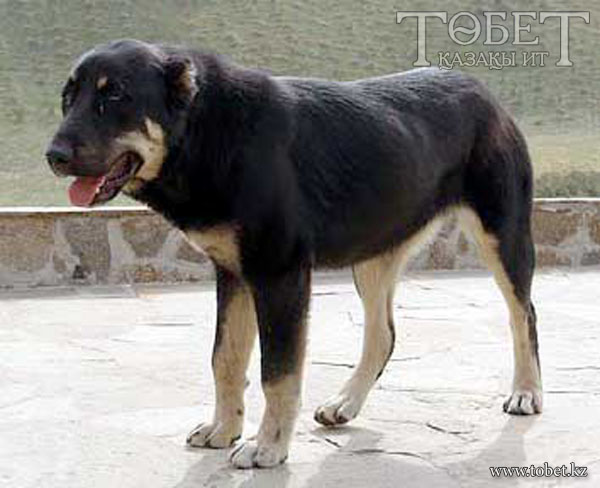 "NOT EVERY DOG LIKES TO BE A SHEPHERD; SOME JUST DON'T HAVE ANY WISH FOR IT, ESPECIALLY TOBETS.
KARAHAN IS INTERESTED IN SHEPHERDING, HE BARKS, TOSS THE CATTLE AROUND, MAYBE HE IS GOING TO MAKE A GOOD SHEPHERD DOG.
THE BROWN BITCH – KARASH – DARING DOG, PACK LEADER AT THE MOMENT.
I'VE BOUGH HER IN MOSCOW.
FATHER – TOHMET, MOTHER - ULANA.
I'M ENGAGED IN RECOVERING TOBETS POPULATION IN KAZAKHSTAN.
IT IS VERY GOOD THAT THE PEOPLE LIKE YOU, WHO PRESERVED THE BREED AND, AS IT SEEMS TO ME, DIDN'T SPOIL IT, EXIST".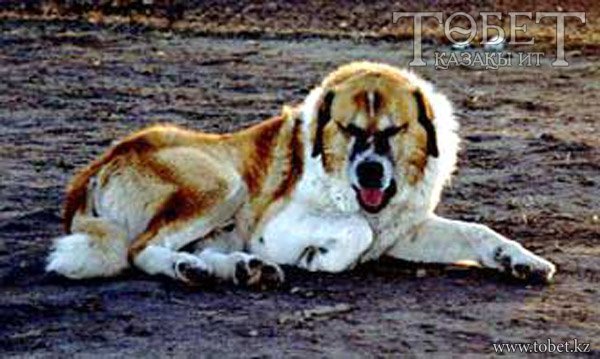 "THIS IS MY PRIDE.
MOINAK – 9 YEARS OLD.
KILLED 13 WOLVES, ONE WILD BOAR".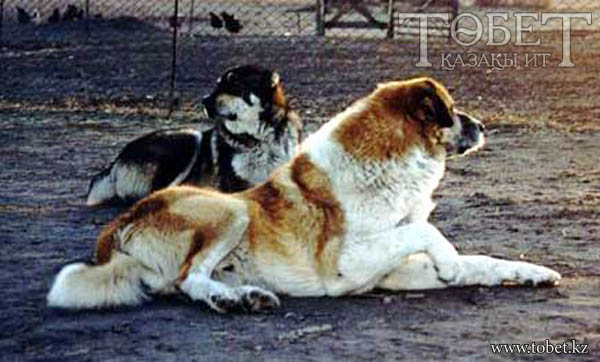 NEXT TO HIM – HIS SON, HUNTED ROE DEER, BUT CANNOT DARE TO ATTACK A WOLF, HE DOESN'T HAVE ENOUGH COURAGE.
MOINAK NOW IS ON A "PENSION" AT MY HOUSE.
HIS SON CANNOT COPE WITH WOLVES AND THE WOLVES TAKE VENGEANCE FOR THEIR KIN, KILLED BY MOINAK – EVERY MONTH 3-4 SHEEP DISAPPEAR".

"THESE DOGA ARE OF VOLARY HOUSING IN THE MOUNTAINS.
THEIR TASK IS TO ACCOMPANY THE HORSEMEN.
LONG MARCHES – UP TO 40KM PER DAY.
HERE THE SELECTION STARTS. THE MOST IMPORTANT MERITS – ENDURANCE, LOYALTY, ETC.
HERE ARE THE PHOTOS OF YOUNG DOGS (1,5 YEARS OLD) – KAITPAS AND MOINAK".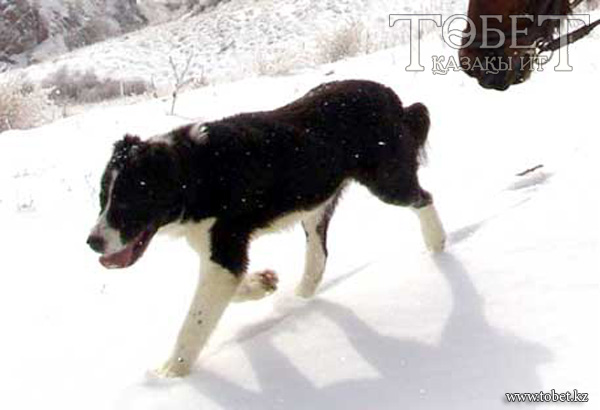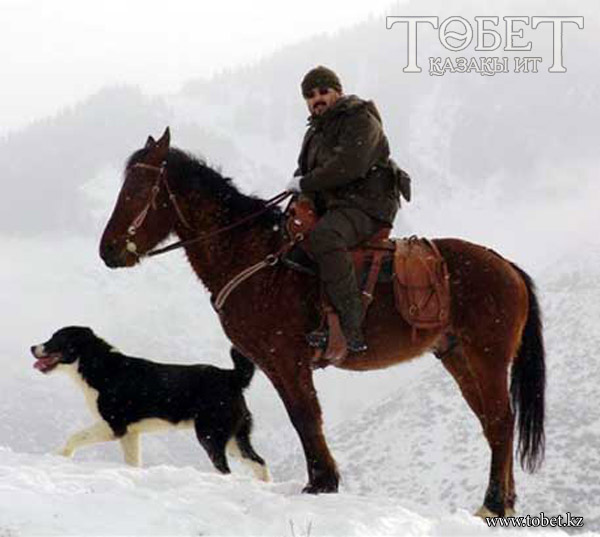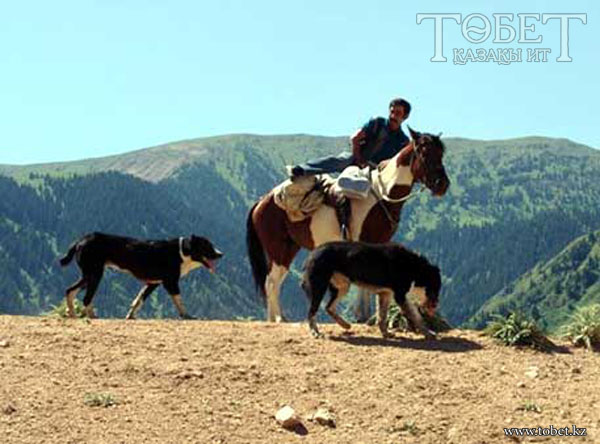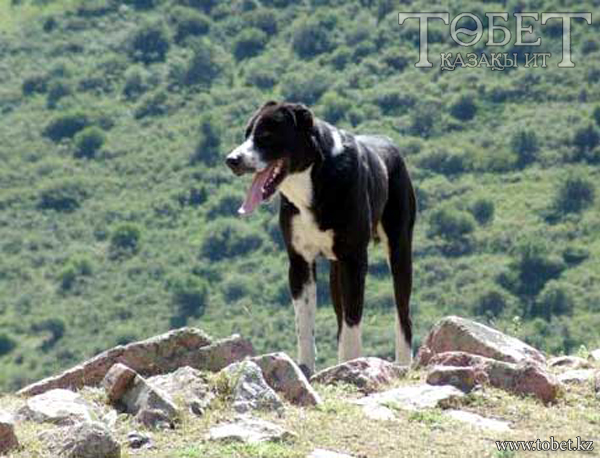 "THESE ARE THE PHOTOS FROM JAILAU, SUMMER MOUNTAIN PASTURES.
THE DOG IS ALADZHA – VERY SERIOUS YOUNG MALE DOG.
PARENTAGE UNKNOWN.
PURELY GUARD DOG FOR THE CATTLE.
RECENTLY HAVE COUGHT A LYNX – HIS FIRST DEED.
AT NIGHT NEVER LEAVES THE HORSES ALONE.
THERE ARE PLENTY OF WOLVES IN THE MOUNTAINS, SO HE HAS NO TIME TO SLEEP AT NIGHT".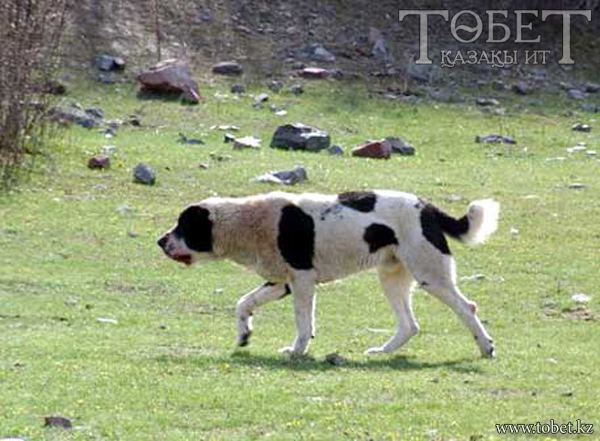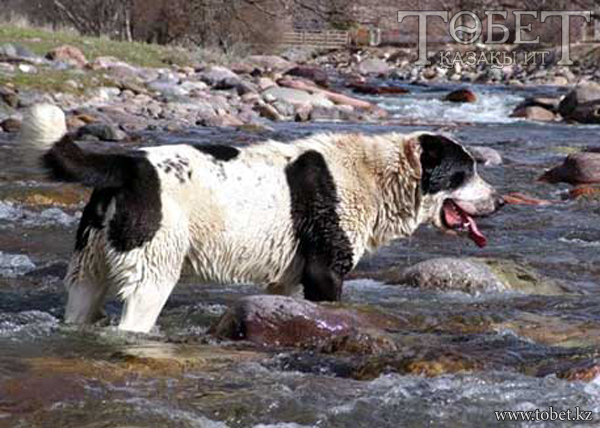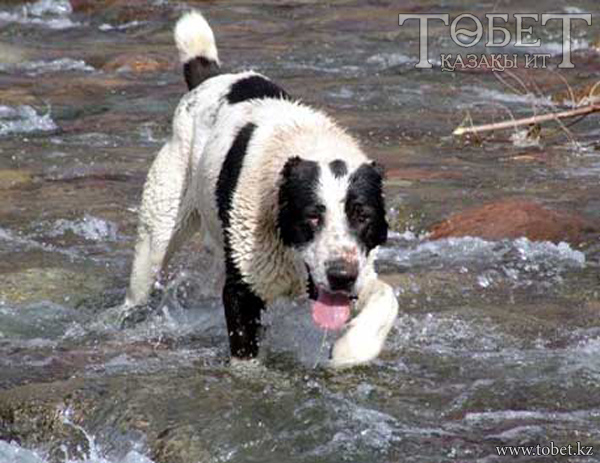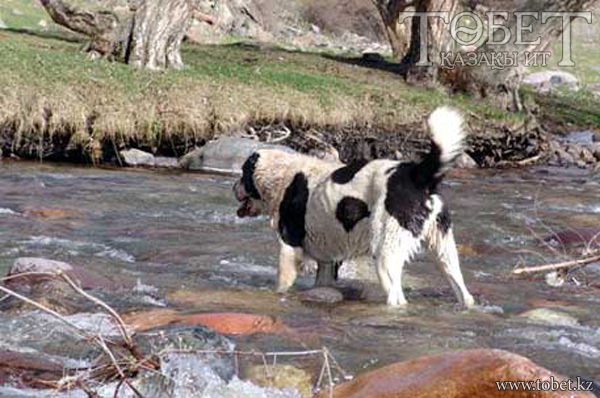 KARAHAN KARA JULDYZ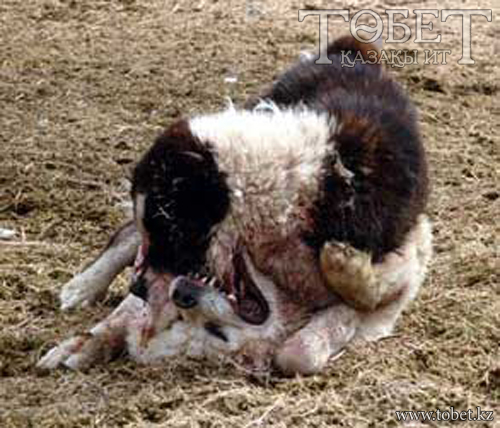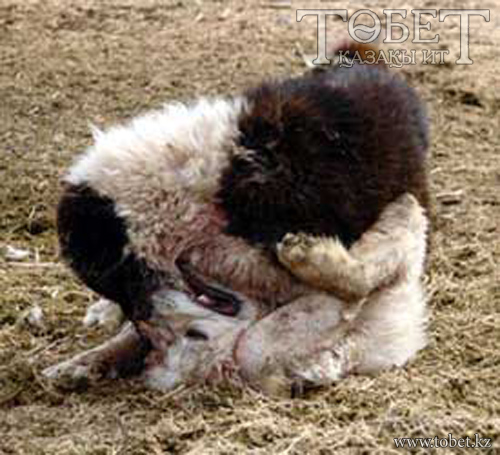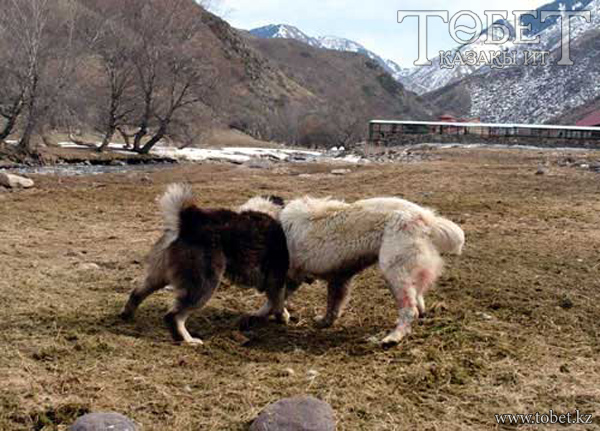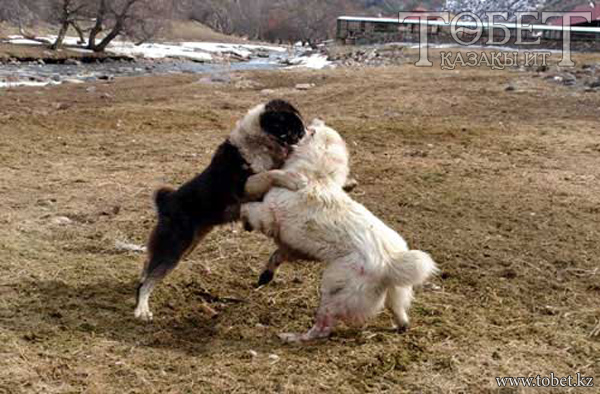 "THE MALE DOG, WHICH IS LYING – THE LEADER OF 9 DOGS PACK.
HIS NAME IS ALABAS – HE IS A SHEPHERD DOG, HE NEVER SLEEPS AT NIGHT. AS A PUPPY, ALABAS HAS BEEN THE MOST UNPRETENTIOUS, I'VE BOUGHT HIM TOGETHER WITH TWO OTHER PUPPIES AND AT FIRST DIDN'T WANT TO TAKE HIM, BUT MY BROTHER INSISTED.
NOW HE IS ONE OF THE MOST WORTHY DOGS, HE IS NOT EVEN 2 YEARS OLD, BUT HE IS ALLREADY ONE OF THE BEST SHEPHERDS. AT THE AGE OF 1 HE HAS ALLREADY HUNTED DOWN A FOX.
SHEPHERD'S CHILDREN WERE CRYING WHEN I WANTED TO TAKE ALABAS TO THE OTHER PASTURE AND I LEFT HIM AT THE OLD PLACE.
THE SHEPHERD WILL TRADE ALL HIS OTHER DOGS FOR ALABAS.
THE DOG NEAR THE CAMEL – THE BITCH NAMEDALAKOZ.
SHE IS A SHEPHERD SOG AS WELL. HERE YOU CAN SEE THAT SHE GUARDS A YOUNG FRMALE CAMEL.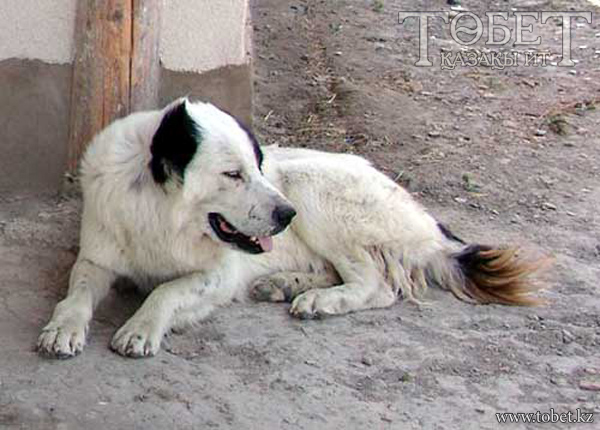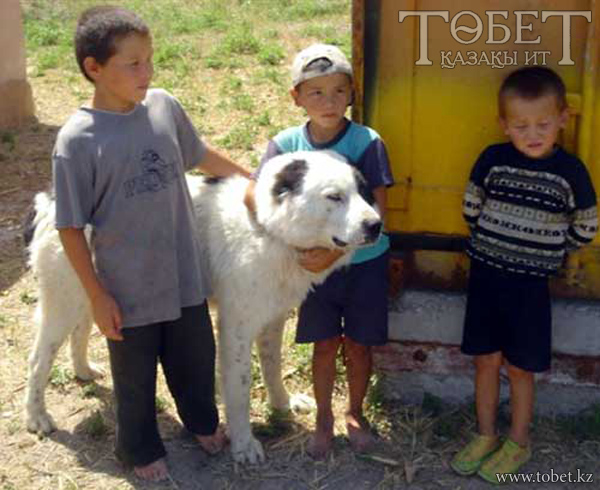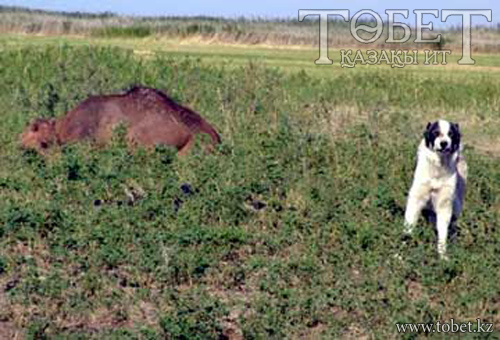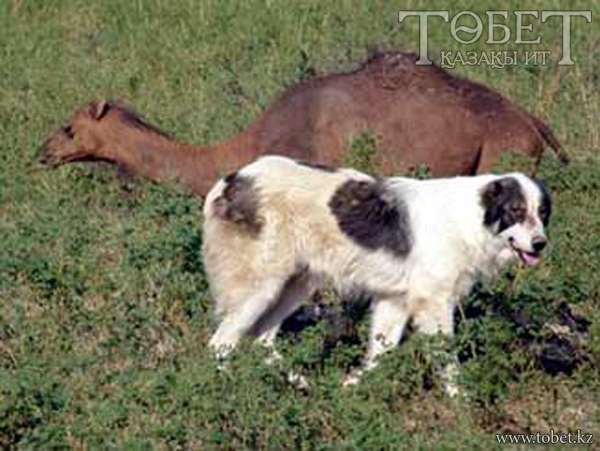 KARAHAN KARA JULDYZ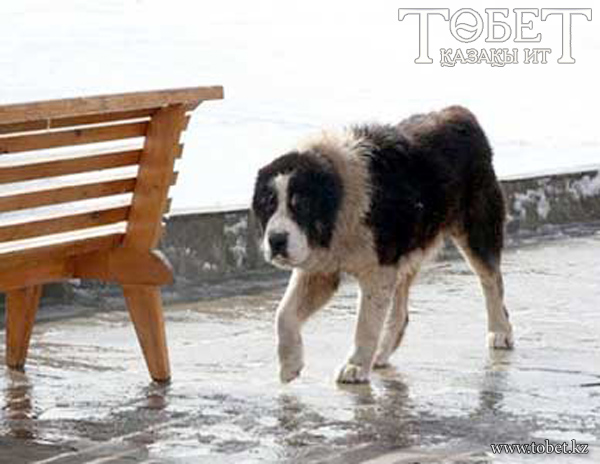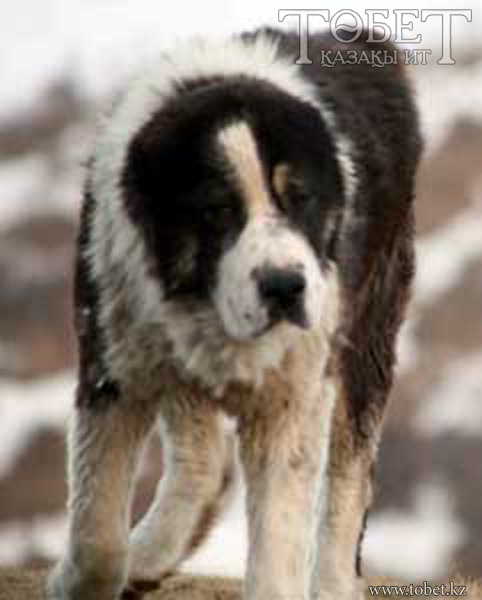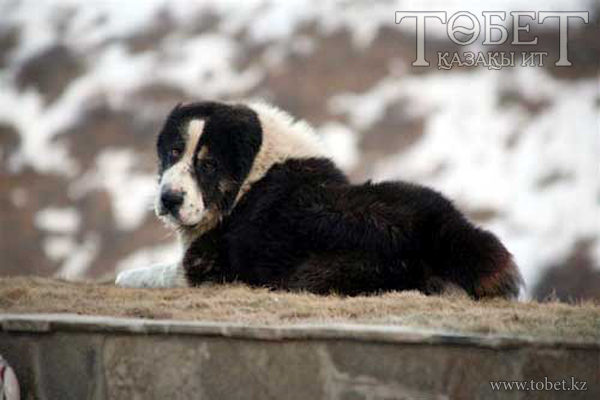 Yours faithfully,
Daniyar, "Kazakhy It" nursery, Almaty, Kazakhstan.
Materials of «www.security-dog.org» website were used for writing this article